From The Blue Banner | October 31, 2021 | by Makayla Towns (Photo by Makayla Towns)
The LGBTQ Oral History Project lives in the corner of Associate Professor of English Amanda Wray's office. Worn boxes sit on top of each other filled to the brim with magazines, articles and news clippings throughout history, some in newer mint condition and others yellow with age or folded with use. This unexplored archive of LGBTQ material from actual members of the community sit snug with her plaques, educational books and photos of her two children.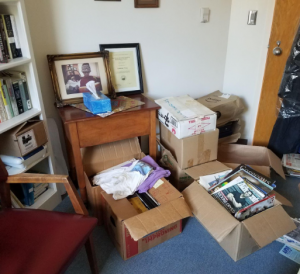 "A lot of the people that we interview are older and they have all these things and they're like, 'We don't know what to do with them,' and they might maybe not have any children or don't have anyone to pass them on to and they say, 'Do you want these?' and we say, 'Hell yeah, we want these,'" said Drew Scott, a sophomore at UNCA and Wray's current intern.
Scott, who processes the physical archives, opens all of the boxes and shows different magazines, newspaper clippings, photo albums, scrapbooks and pamphlets. Pieces of paper range from the early 70s to the present day and come from different regions in America. He said he wishes they had more space to work.